When I think of Indian food, tandoori chicken is automatically what pops into my head. It's super popular and seemed mild enough for my family to enjoy.
The original recipe called for a whole chicken that was grilled over indirect heat for 1 1/2 hours. Well, I just don't have time for that most days so I decided to use quick cooking boneless, skinless chicken tenders to make this a meal that can be made in less than 30 minutes (not counting marinating time).
Tandoori chicken is marinated in yogurt and a combination of spices including paprika, coriander, cumin, garam masala and cayenne. Traditionally, it's cooked in a cylindrical clay oven called a tandoor. I obviously don't have access to one of those (though it would be awesome) so these tenders are grilled instead.
I love having a collection of quick, easy and healthy chicken recipes in my arsenal, especially when they are unique and flavorful. Because regular old grilled chicken can get old but tandoori grilled chicken will totally win over your family. And maybe, just maybe, they will all eat it without complaining. Or asking for yogurt instead.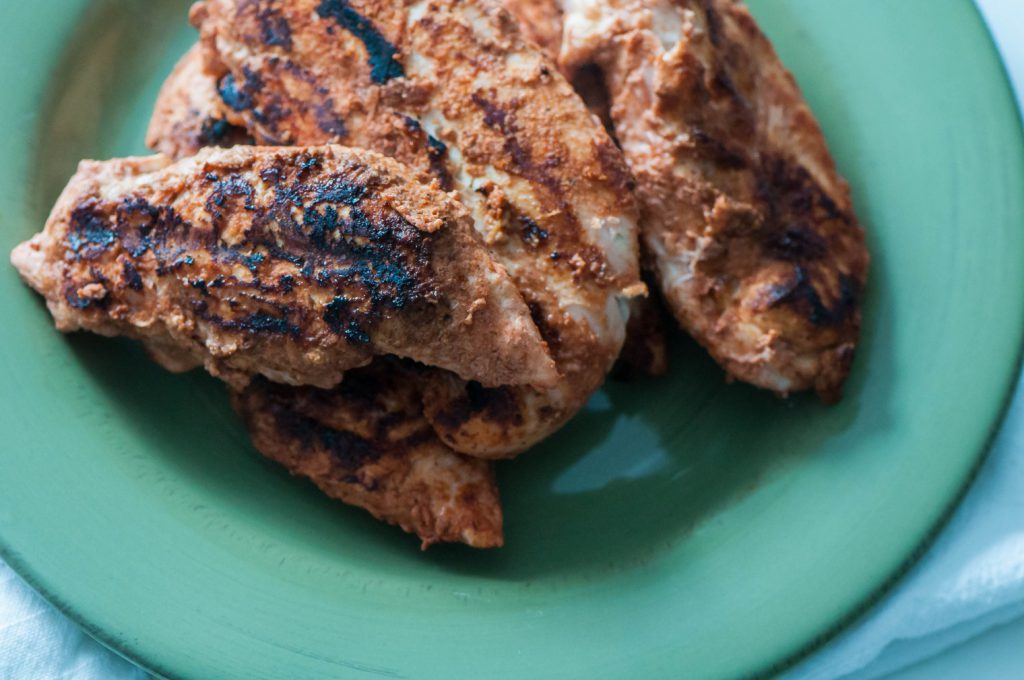 Grilled Tandoori Chicken Tenders
2016-01-20 02:53:17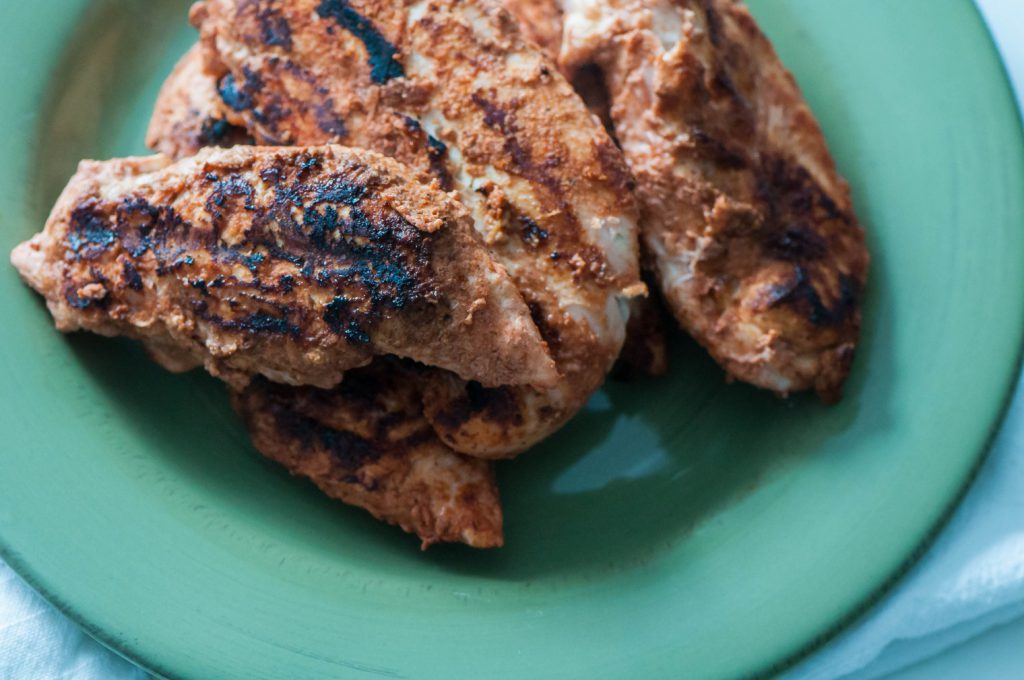 Ingredients
2 1/2 lbs. chicken tenderloins
1 cup plain yogurt
1 Tbsp. fresh grated ginger
8 garlic cloves, finely chopped
1 Tbsp. ground coriander
1 Tbsp. sweet paprika
1 Tbsp. Garam Masaala
2 tsp. salt
1 tsp. ground cumin
1 tsp. cayenne
1/4 tsp. red food coloring, optional
Instructions
Mix yogurt, ginger, garlic, coriander, paprika, Garam Masaala, salt, cumin, cayenne and food coloring in a ziptop bag. Place chicken in bag and smoosh around until thoroughly coated. Seal bag and place in refrigerator. Marinate for 4-24 hours.
Brush grill pan (or outdoor grill) with vegetable oil. Heat to medium heat. Remove chicken from marinade. Place in grill pan and cook 4 minutes. Flip and cook another 4 minutes, or until no longer pink.
Adapted from
Betty Crocker Indian Home Cooking
Adapted from
Betty Crocker Indian Home Cooking
Meg's Everyday Indulgence https://www.megseverydayindulgence.com/