I just tried something on Monday that is going to be a total game changer for me. Wait for it. Online grocery shopping. Now, I know this is pretty common in a lot of bigger cities but it just hit our grocery store and I've had a few friends and family members rave about it so I decided to give it a try. And I now vow to never go on big grocery shopping trips ever again.
I opted to pick up this time since my store doesn't deliver on Mondays and I also don't like to answer the door when I'm home alone with the kids. I know I'm crazy paranoid but I'd rather be safe than sorry and I also like to avoid people selling crap.
Friends that just plan on dropping by should be aware of this habit. Duly noted.


Shopping + watching Netflix + baby napping = happiness. Way better than shopping with said baby who is whining the whole time because she wants to eat everything you put in the cart then you turn into *that* mom that you always swore you wouldn't be and you open said product and let her eat it so she will zip it. Every time.


Plus, it gives you more time to make things like this delicious Broccoli Cheese Wild Rice Casserole from scratch. It's made without canned soup or processed cheese so you can feel good about feeding it to your family. Even without those store bought ingredients it turns out really creamy.
I opted for a brown and wild rice mix to add a little more interest and texture but you could substitute whatever rice you prefer. And it's healthier for you so that totally makes the decadent cheese sauce ok.
This is hearty enough to serve as a main dish with a salad or you could use it as a side with some simple grilled chicken.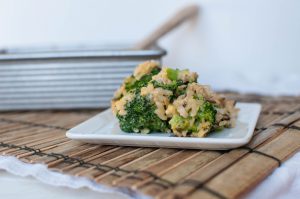 Broccoli Cheese Wild Rice Casserole
2015-09-15 16:56:22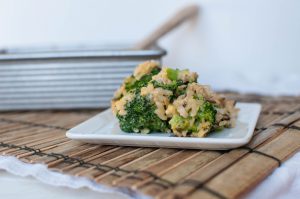 Ingredients
1 batch perfectly cooked brown rice (sub brown wild rice mix)*
1/2 lb. fresh broccoli
2 Tbsp. butter
2 Tbsp. flour
1 cup milk
8 oz. sharp cheddar, shredded
Instructions
Preheat oven to 350 degrees. Steam broccoli for 3-4 minutes, just until tender crisp.
In a small saucepan, melt butter. Stir in flour and cook for 2 minutes. Slowly add milk, stirring to combine. Cook until mixture has thickened then remove from heat and stir in all but 1/2 cup of the cheddar.
Mix cooked rice, broccoli and cheese sauce then pour into an 8x8 pan. Top with remaining cheese. Bake for 15 minutes.
Notes
*Learn how to perfectly cook brown rice here: http://www.megseverydayindulgence.com/2014/03/12/how-to-cook-brown-rice-perfectly/
Meg's Everyday Indulgence https://www.megseverydayindulgence.com/