This is a sponsored post but as always, all opinions are my own.
On Tuesday afternoon, I had an amazing opportunity to interview Chef Antonia Lofaso. French Culinary Institute graduate and Top Chef All Star, Antonia recently partnered with Breyers to create family friendly recipes that use the best ingredients to create life-long memories.
I was incredibly nervous to talk with her but she made it so easy and had so much to share with me. We talked all things Breyers, weeknight meals, afterschool snacks, Top Chef and restaurant ownership.
We talked about her partnership with Breyers first and she said a major reason she decided to work with them was because Breyers has committed to using milk and cream from cows that have not been treated with artificial growth hormones and their vanilla will come from sustainably sourced and Rainforest Alliance Certified vanilla beans from Madagascar. The fact that Breyers cares and holds high standards for their customers is a major win for all of us.
What stuck out most to me was her passion for food and the memories it has created throughout her life. She said her partnership with Breyers was a natural one since she grew up eating it. She told me her mom would set up sleepovers where they would lay in bed, watch movies and eat Breyers Natural Vanilla, pound cake and melon.
Her dad would come home to everyone in bed asleep with remnants of their dessert strewn about. When her mom found out about the Breyers partnership, she jumped up and told Antonia she just had to do something with the pound cake sundae they used to make.
That's what I love about food, it brings us together, creates forever memories and brings us back to childhood.
All of the recipes Antonia created for Breyers evoke memories whether it's of her childhood or her own daughters. The Tropical Ice Cream Sandwich was created to pay homage to her daughter who is half Jamaican and the Toasted Almond and Vanilla Arancini is a play on her Italian roots.

Although our conversation was over the phone, I could tell she just lit up when talking about the recipes she created and the memories they evoked. They all seemed to hold a special place in her heart but I felt this Pound Cake & Peaches Sundae was where it all started for her and her family with Breyers so it was only right to feature it alongside the interview.

I expected to enjoy this sundae. I mean, it's ice cream and cake and fruit. But I'm not a huge fan of peaches so I wasn't sure it would be my favorite. Well, I truly loved this dessert. The maceration of the peaches brought out so much flavor and sweetness then combine it with the warm, heavy pound cake and cold creamy Natural Vanilla Breyers for an absolutely divine sweet treat.
We were rebels and had this before dinner last night to ensure I had good light to photograph it. I kind of wanted to say screw it to dinner and just have another serving of the sundae. I figured that wouldn't be the best example to set for my children so I didn't but I may have it for lunch tomorrow. YOLO.
I can't wait to share some great tips, advice and ideas from Antonia with you all on Wednesday. And a little something I learned about myself through the process.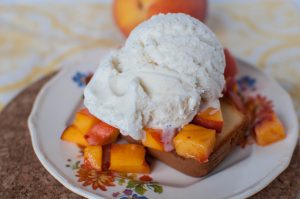 Pound Cake and Peaches Sundae
2015-09-25 12:19:52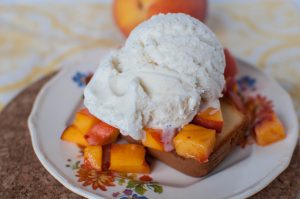 Serves 4
Ingredients
2 fresh peaches, diced
2 Tbsp. fresh lemon juice
1 Tbsp. granulated sugar
2 tsp. thinly sliced fresh basil leaves
4 (1/4-inch thick) pound cake slices
1 cup Breyers® Natural Vanilla Ice Cream
Instructions
Mix peaches, lemon juice, sugar and basil in a small bowl. Heat a skillet over medium heat. Spray with coconut oil spray then toast each side of the pound cake, about 1 minute each.
To make each sundae, place a slice of toasted pound cake on a plate, then top with a 1/4 cup scoop of Breyers® Natural Vanilla Ice Cream and cover generously with macerated peaches.
Adapted from Antonia Lofaso
Meg's Everyday Indulgence https://www.megseverydayindulgence.com/