Peanut Butter Fudge Ripple M&M Ice Cream is creamy, rich and so satisfying. It starts with a simple vanilla base with candies and chocolate.

July is National Ice Cream month and it's also the week of Noah and my birthdays so I'm sharing ice cream recipes all week that are a delicious way to celebrate. Because who doesn't like ice cream? If you don't, I'm not sure if we can be friends.


It's been unbearably hot here the past few days with the heat index up to 110 degrees so it was kind of perfect timing to have all these homemade ice creams around the house. I made three different recipes for Noah's birthday party that you will see this week along with an easy, tasty recipe from Top Chef All-Star Antonia Lofaso.


Today's ice cream is a mouthful and was my hands down favorite of them all. When Noah and I were talking ice cream for the party he said he wanted a chocolate one, vanilla one and a blue one. Well, you all should know by now that I can't leave well enough alone so we couldn't just do plain flavors. Booring.
I like a good, trashed up ice cream so we built upon the base flavors. First, we thought of M&M's then I suggested a fudge ripple since he's a little chocoholic. Then as we were making the ripple, I decided to add a little crunchy peanut butter since it's Noah's new favorite food. All those ingredients combined into a rich, creamy, crunchy dream come true. I mean, not much is better than peanut butter and chocolate.
And look how pretty. Don't you love all the colors?
Wednesday will bring you some "chocolate goodness," as Noah would say.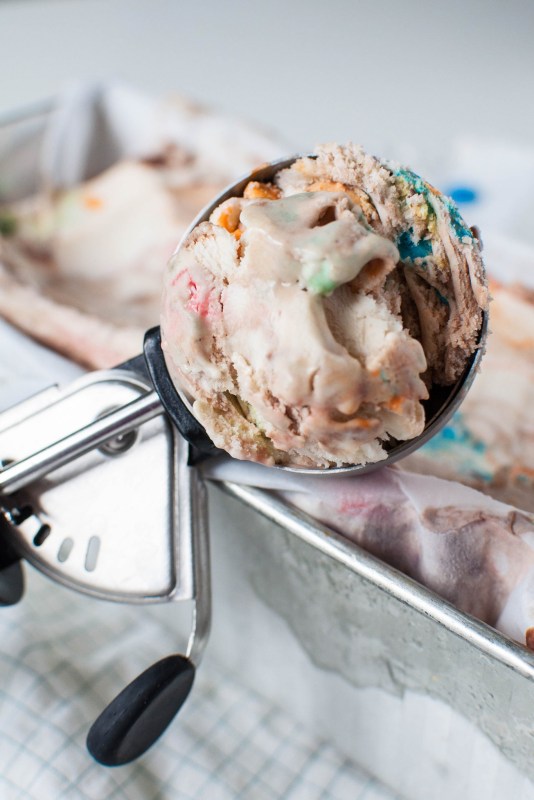 Peanut Butter Fudge Ripple M&M Ice Cream
2016-02-21 19:43:05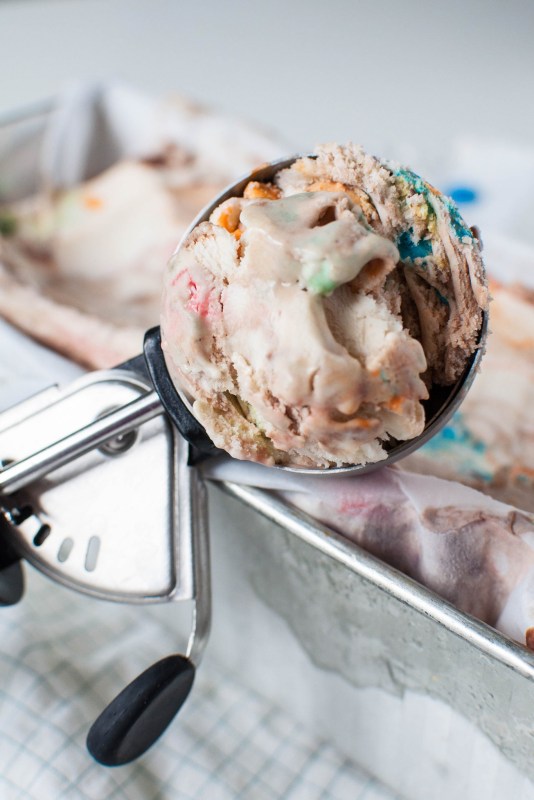 Ingredients
2/3 cup sugar
2 large eggs
2 Tbsp. all-purpose flour
1/4 tsp. salt
1 2/3 cups milk
1 cup heavy cream
2 tsp. vanilla
For the peanut butter fudge ripple
2 tsp. sugar
2 oz. evaporated milk
2 oz. semi-sweet chocolate
1 Tbsp. crunchy peanut butter
pinch of salt
1/2 cup M&M's
Instructions
In a medium mixing bowl, beat the sugar into the eggs until thickened and pale yellow. Beat in the flour and salt. Set aside.
Bring the milk to a simmer in a heavy saucepan. Slowly beat the hot milk into the eggs and sugar. Pour the entire mixture back into the pan and place over low heat. Stir constantly with a whisk until the mixture thickens slightly and coats the back of a spoon. Be careful not to let the mixture boil or the eggs will scramble. Remove from heat and pour through a fine mesh strainer into a large, clean bowl. Allow the custard to cool slightly, then stir in the heavy cream and milk. Refrigerate overnight, or until completely chilled.
Meanwhile, bring the sugar and evaporated milk to a simmer and cook until sugar has dissolved. Remove from heat and stir in chocolate, peanut butter and salt. Allow to come to room temperature then refrigerate until ready to use.
Stir the chilled custard, then freeze according to manufacturers instructions. During last minute, add M&M's. Remove ice cream from ice cream maker and dollop fudge ripple over it. Carefully fold in the ripple, only mixing a couple times to keep the ripple rather than incorporate. Place into a freezer safe container and freeze.
Adapted from
The Ultimate Ice Cream Book
Adapted from
The Ultimate Ice Cream Book
Meg's Everyday Indulgence https://www.megseverydayindulgence.com/