So, I haven't had a full night's sleep in a few months due to a certain little girl. A little girl that is going to be one next week! She should totally be sleeping all night, am I right? Well, she did last night and I have to tell you, I haven't felt this good in a long time. I'm actually a pleasant person today. Have I told you me without sleep is not a pretty picture? For reals.


Getting enough sleep means I still have energy by the end of the day to cook a decent meal. And this meal totally screams fall to me. Hearty, pork chops covered in homemade whole grain breadcrumbs with a huge helping of broccoli mashed potatoes on the side.
And did I mention this deliciously filling meal is healthy and clean? You're welcome.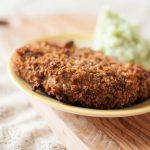 Print
Crispy Baked Pork Chops
Ingredients
4

boneless center-cut pork chops, 3/4 to 1 inch thick

4

slices

whole grain bread

2

cloves

garlic, finely minced

2

Tbsp.

olive oil

Fresh ground black pepper

3

Tbsp.

grated parmesan cheese

1/2

tsp.

dried thyme

2

Tbsp.

dried parsley

1/4

cup

whole wheat flour

2

large

eggs

2

Tbsp.

Dijon mustard
Instructions
Preheat oven to 350 degrees F. Meanwhile, tear bread into pieces and place in food processor until fine crumbs form. Pour onto a rimmed baking sheet and drizzle with olive oil and sprinkle on the garlic. Mix well with your hands then bake for 15 minutes, stirring halfway through. Let cool to room temperature. Change oven temperature to 425 degrees F.

Once crumbs are cool, mix in parmesan cheese, thyme and parsley. Next, set up an assembly line of ingredients. Place flour in a pie plate, mix eggs and mustard in another pie plate then breadcrumbs in another. Roll pork chops in flour, eggs then breadcrumbs and place on a greased baking sheet. Bake for 17-25 minutes or until cooked through (mine took 20 minutes).