When I think of fall, pumpkin and apples always come to mind. But another flavor profile that screams fall to me is caramel. Whether it's caramel corn, rolls, cake, cider or apple pie, it's always fall when I consider them. It's rich, sweet and creamy and salt always makes it better.
We had some friends over recently for a Husker game and I wanted to try a recipe from one of my new cookbooks and when I flipped to these salted caramel rice krispie treats in Sally's Baking Addiction I knew the search was over.
Everybody loves a thick, chewy rice krispie but these are elevated to a whole new level with a homemade salted caramel and a finishing sprinkle of flaked sea salt. Are you drooling yet?
Not only are they easy but they are the perfect treat to enjoy on a crisp, autumn night while watching the game.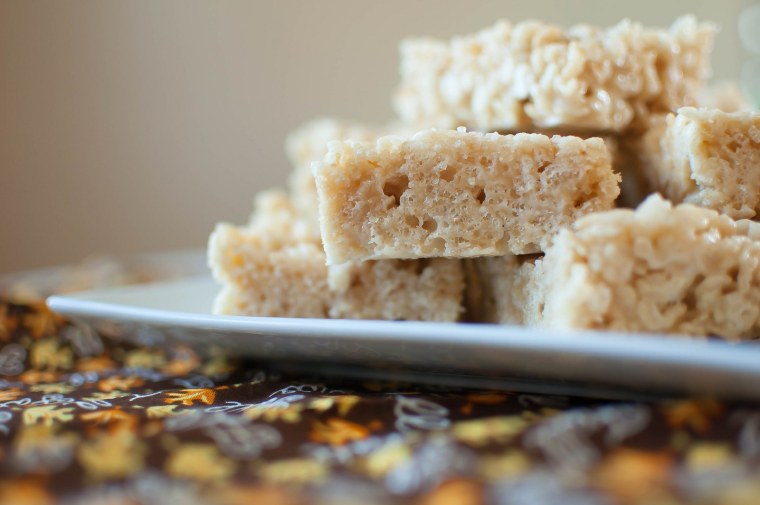 Salted Caramel Rice Krispie Treats
2016-03-04 02:28:31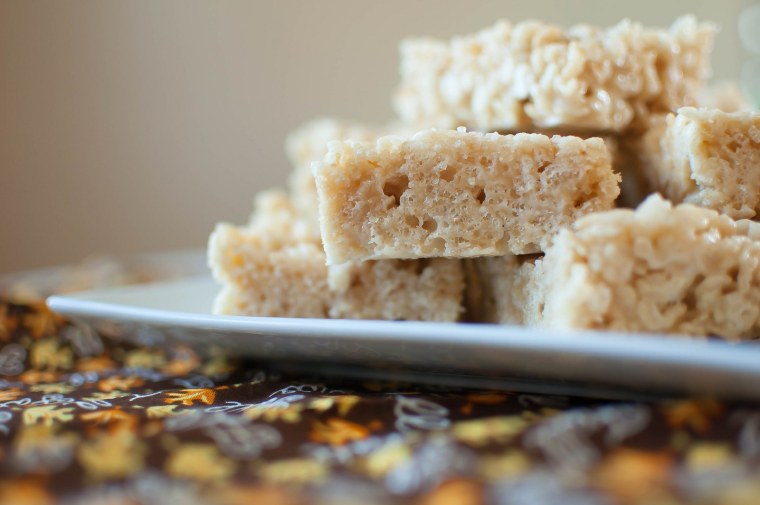 For the caramel
1 cup granulated sugar
6 Tbsp. salted butter, cut into 6 pieces
1/2 cup heavy cream
1 tsp.salt
For the rice krispies
4 Tbsp. butter
1 (10 oz.) bag marshmallows (regular or mini)
4 1/2 cups rice krispies
1/2 cup salted caramel from above
sea salt, to sprinkle
Instructions
For the salted caramel: Heat the granulated sugar in a medium saucepan over medium heat, stirring constantly. It will start to form clumps and melt into a thick brown liquid; be careful not to burn it. Once the sugar has melted completely, add the butter. The mixture will bubble rapidly. Stir for 2-3 minutes until the butter is completely melted then stir in the heavy cream and allow to boil for 1 minute. Remove from heat and stir in the salt. Pour into a heatproof bowl and allow to cool and thicken before using.
Lightly spray a 9x9 pan with non-stick cooking spray and set aside.
Melt the butter in a saucepan over low heat. Stir in the marshmallows until they are completely melted and incorporated into the butter. Remove from heat and stir in the cereal. Gently fold in half the salted caramel.
Dump cereal mixture into the prepared pan and gently spread it out. Drizzle with the remaining caramel sauce then sprinkle to your liking with the sea salt. Allow to cool for at least 1 hour before cutting.
Adapted from
Sally's Baking Addiction Cookbook
Adapted from
Sally's Baking Addiction Cookbook
Meg's Everyday Indulgence https://www.megseverydayindulgence.com/