I love cookbooks. Seriously. LOVE. I have a ton and am running out of room to store them in my kitchen. I'm starting to consider a bookshelf or wire baskets hung on the wall so that I can continue my obsession collection. Wouldn't three of those baskets hung vertically on the wall be really cute! I think I'm going to do it in my dining room since I don't have any real wall space in my kitchen.


But in the meantime I should probably stop purchasing them. The addiction still calls my name so when I take Noah to the library every couple weeks, I always hit the cookbook section and borrow a few. When I recently spotted Michael Symon's 5 in 5, I snatched it up since I'm a big fan of The Chew and his 5 in 5 segments.
Let me start off by saying this recipe is delicious but it definitely took me more than 5 minutes to make. Maybe it was because I move too slow or perhaps because my sous chef is 3 years old rather than a culinary trained celebrity chef.
Either way, this Chicken Satay with Spicy Peanut Sauce was still a quick weeknight meal that was packed with bright flavors.


Citrus, jalapeno, peanuts and cilantro all combine to create a zippy Thai flavor profile. And have I told you that I love chicken thighs. I've always been a white meat kind of girl (and still would usually choose it) but it's a nice change every once and awhile. So much more flavor and juiciness. To make it a bit healthier, you could switch to boneless, skinless breasts but I think the extra fat is totally worth it here.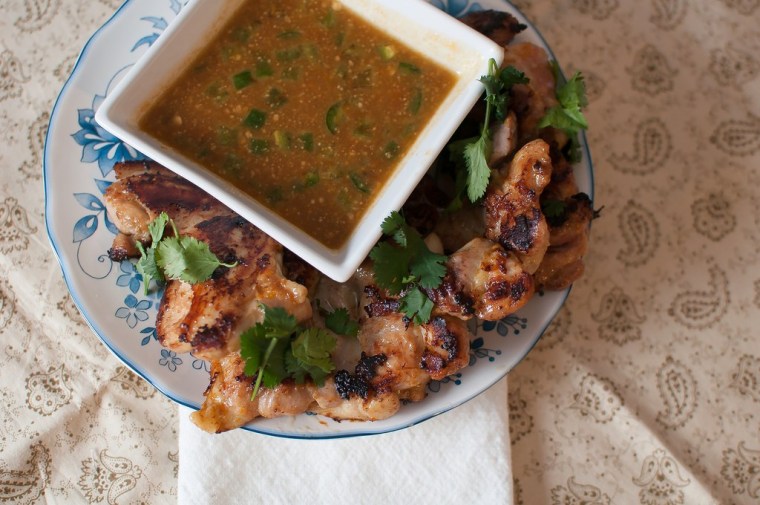 Chicken Satay with Spicy Peanut Sauce
2016-03-15 02:04:10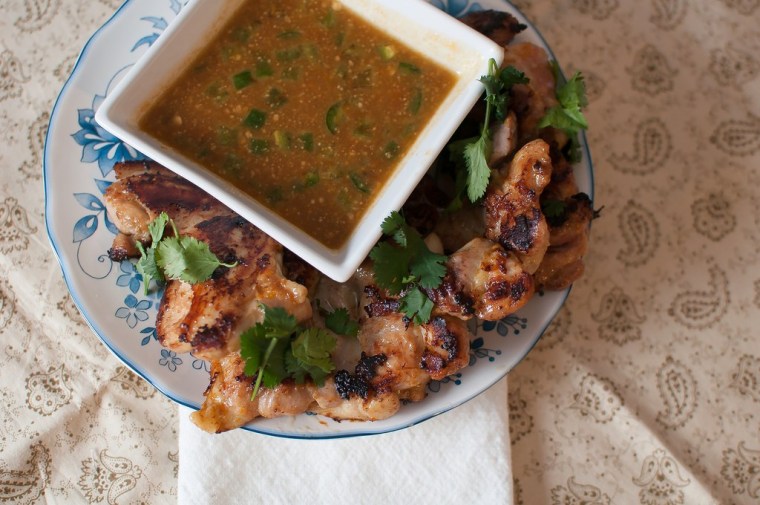 Ingredients
2 Tbsp. peanut butter
Grated zest and juice of 2 oranges
1 jalapeno, minced
1/4 cup soy sauce
1/4 cup olive oil
8 (4 oz.) boneless, skinless chicken thighs, halved
Kosher salt and freshly ground pepper
1/4 cup roughly chopped cilantro
Instructions
Preheat grill or grill pan to medium-high heat.
In a small bowl, whisk together peanut butter, orange zest, orange juice, jalapeno, soy sauce and olive oil. Season chicken with salt and pepper. In a medium bowl, toss the chicken with half the peanut sauce.
Thread 2 pieces of chicken onto skewers (I skipped the skewers but it would make it easier). Grill for 3 minutes, flip and cook another 2 minutes.
Remove chicken from grill and drizzle with some reserved peanut sauce and top with cilantro.
Adapted from
Michael Symon's 5 in 5
Adapted from
Michael Symon's 5 in 5
Meg's Everyday Indulgence https://www.megseverydayindulgence.com/