Save some money and do a fun DIY by making this homemade vanilla extract. It's super simple to make and way cheaper than buying it at the store.
This post may contain affiliate links. For more information, please read my disclosure policy.
Did you know that besides saffron, vanilla is the most expensive spice you can buy? Did you also know that vanilla extract super easy and cheap to make yourself? Oh, and it tastes so much better than the store bought stuff.
What You Need
You literally need two ingredients, good quality vanilla beans and vodka. I get my Madagascar vanilla beans from Penzeys Spices and buy them in bulk (15 at a time) so that I always have some on hand and can have several batches of vanilla brewing at a time.
As for the vodka, you don't need to use top shelf but I don't recommend the cheap stuff either. I used Smirnoff and was happy with the results.
I use the formula of 5 vanilla beans to every cup of vodka so take that into account depending on how much vanilla you want to make. I started with a 2 cup batch in this fun bottle but you could divide it into smaller batches for gift giving or make a huge batch to keep for yourself.
A 750 ml bottle of vodka is a little over 3 cups of vodka so if you want to make things really easy, throw all 15 vanilla beans into the bottle and call it good.
How to Make DIY Vanilla Extract
To make your vanilla extract, split open the vanilla bean pods and scrape out the beans with the dull side of a knife. Dump the seeds and pods into your vodka, seal the bottle (mason jars work great if you don't have bottles) and shake shake shake.
Store in a cool, dark spot and shake every couple days (I keep mine in my pantry). Now, for the hard part, wait 2 months. As time goes by, the vodka will turn darker and become a rich brown when it is complete.
If you are making small batches, make sure to divide the vanilla beans and vodka between all the bottles (for example, 1/2 cup vodka and 2 1/2 beans per bottle) rather than making a huge batch at once then dividing it when it's ready.
As the vanilla beans sit in the vodka, they continue to deepen the flavor, even after the 2 months, so you always want the beans in with the extract.
More Tips and Ideas
Just a little side note, you can also make bourbon vanilla. I chose to go with vodka because it's more universal and will be delicious in any recipe. Bourbon vanilla is extra delicious when paired with recipes involving chocolate.
I think I will whip up a batch to have on hand for the times I do make chocolate treats. I'll let you know how it goes. If you do choose to go with bourbon instead, follow the same steps above.

Once you have used up all your vanilla, don't throw out the vanilla bean pods! Dry them out and throw them in a jar with some sugar to make up some vanilla sugar.
I started my vanilla making adventures quite a few months ago and have just gotten around to sharing the method with you all, sorry. I've actually already used about 3/4 of this bottle!
But I wanted to make sure to post this now though so that you can whip up your own vanilla extract in time for your holiday baking or gift giving. It truly does give a richer, deeper flavor to baked goods and whipped cream and saves you lots of cash.
I've even looked into other DIY extracts (orange, lemon, almond) and am considering making them too so keep your eyes open.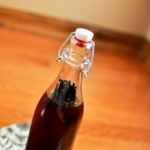 Print
DIY Vanilla Extract
Save some money and do a fun DIY by making this homemade vanilla extract. It's super simple to make and way cheaper than buying it at the store.
Ingredients
750

ml

bottle vodka or bourbon

15

vanilla bean pods
Instructions
Using a sharp knife, cut down the length of each vanilla bean. Using the dull side of a knife, scrape down the bean to remove the seeds. Add to the bottle of vodka (or bourbon). Add pods as well. Seal bottle and shake well to combine. Store in a dry dark place for at least 2 months, shake the bottle every couple days.

It gets better as it sits so if you have the time, allow it to steep for 6 months. As you use, leave the pods in the bottle and it will continue to infuse.
Processing…
Success! You're on the list.
Whoops! There was an error and we couldn't process your subscription. Please reload the page and try again.