This is officially my new favorite dinner. I could literally eat it every week. That's saying something since I usually make a new recipe then don't make it again for months because I keep trying new things to share with you guys. But this…
This happens a lot around here. It's easy, healthy and fills you up!
I have to admit that I have never been a huge fan of cilantro but it has slowly been growing on me and this recipe is one of the reasons. I still don't love a ton of it as I find it overpowering but a little really brightens up any dish it is in.


And just an FYI, this is really yummy with steak too! It's like making your own rice bowls at home but way cheaper and healthier!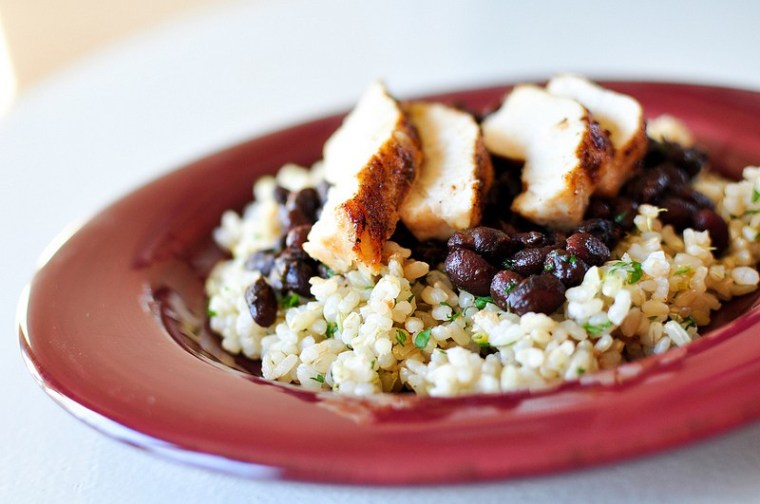 Cilantro Lime Rice and Black Beans with Chicken
2015-11-30 14:31:19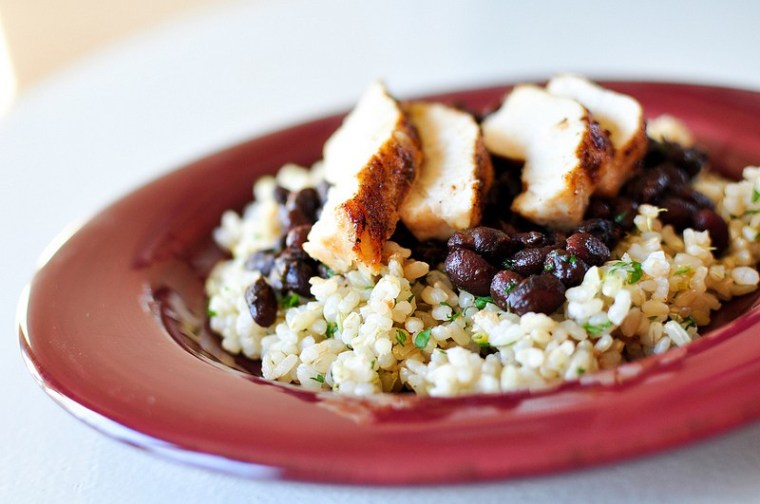 For the Cilantro Lime Rice
1 cup uncooked rice (I used brown rice)
1 lime, zested
1/3 cup cilantro, finely minced
For the Seasoned Black Beans
2 (15 ounce) cans black beans, rinsed and drained (or use cooked dried beans)
2 teaspoons oil
1 clove garlic minced
1 medium onion, finely chopped
1 teaspoon oregano
2 teaspoons ground cumin
1/2 cup chopped fresh cilantro
1 tablespoon fresh lime juice
For the Chicken: 2 chicken breasts
4 Tbsp. Mexican Spice Rub*
1 Tbsp. olive oil
Salsa or Pico for garnish
Instructions
Cook rice according to package directions. Preheat grill to medium high heat.
Meanwhile, in a pan cook onion and garlic in oil until tender. Add oregano and cumin, cooking over low heat for about 2 minutes, stirring constantly. Add black beans and reduce heat to simmer. Cook for 8-10 minutes, stirring often, to allow flavors to blend. Stir in 1/2 cup chopped cilantro and 1 Tbsp. lime juice right before serving.
While beans are cooking, rub chicken with olive oil and Mexican spice rub. Grill until juices run clear. Once rice has cooked, stir in lime zest and 1/3 cup cilantro.
To serve, spoon rice on plate then top with seasoned black beans. Top with a few slices of chicken and enjoy.
Notes
Recipe for Mexican Spice Rub can be found here: http://www.megseverydayindulgence.com/2013/08/21/mexican-spice-rub/
Adapted from Sarah's Cucina Bella and Lynn's Kitchen Adventures
Meg's Everyday Indulgence https://www.megseverydayindulgence.com/