The zucchini in my garden has been growing like crazy. It especially gets out of control when you are out of town for a few days and don't have someone to check on it. Ooops.
This is what happens. The zucchini in the middle is the biggest one I've ever seen and it was kind of insane. I should have put something in there for reference because the photo totally doesn't do it justice.
Pretty much the size of my forearm.


So because of the large amount of zucchini, I have been on the hunt for recipes to use it up. I almost always go savory when it comes to zucchini so I decided to find something sweet this time to switch things up.
Although, zucchini bread isn't the most creative use of it, this Apple Zucchini Bread sounded so yummy that I just had to give it a try. And I'm so glad I did.
The bread was moist from the apple and zucchini and had a warm, spicy flavor from the cinnamon and nutmeg. It was perfect for the cool morning we enjoyed it. I personally think the walnuts are a must because of the crunchy texture they add to the bread.
Half of my crew doesn't really like nuts in baked goods so when it comes to quick breads and brownies I usually sprinkle them on top of half so that everyone is happy. Because I personally think the addition makes a huge difference.


And I don't feel so bad eating a bread with almost the same amount of sugar as flour since it has fruit and vegetables in it. That's good logic, right? Anyway, make this and eat it up warm with butter slathered on it. You won't regret it.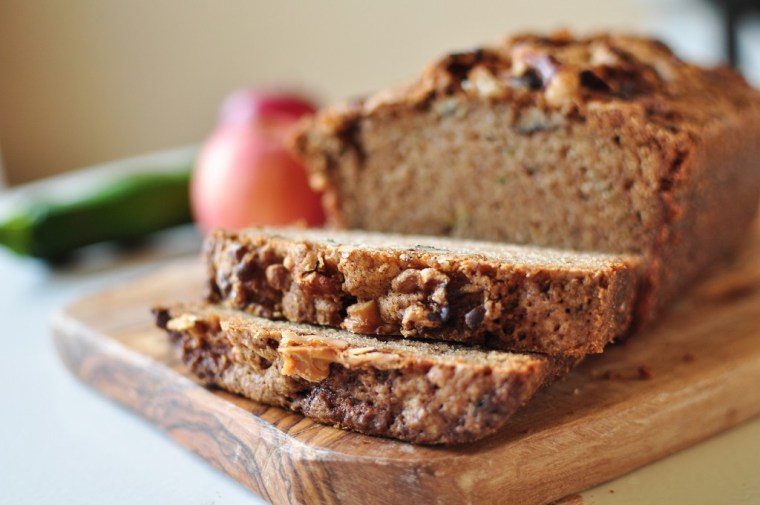 Apple Zucchini Bread
2015-10-01 18:29:53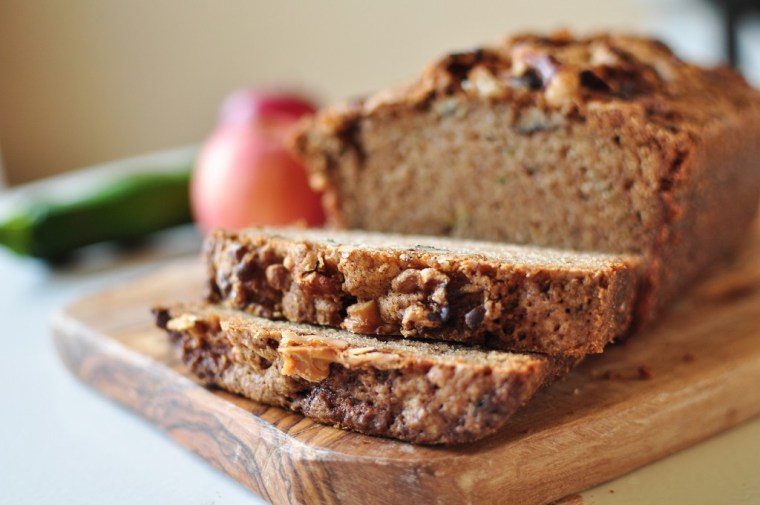 Ingredients
1 3/4 cup flour
1 1/2 cups sugar
1/2 tsp. nutmeg
1/2 tsp. cinnamon
1 tsp. salt
1 tsp. baking soda
1 apple, grated
1 cup grated zucchini
2 eggs
1/2 cup vegetable oil
juice of ½ a small lemon
1/2 cup chopped walnuts
dried apple slices (optional)
Instructions
Preheat oven to 350 degrees F. In a large mixing bowl, stir together the flour, sugar, nutmeg, cinnamon, salt and baking soda. Set aside.
In another bowl, whisk the eggs slightly then stir in the grated apple, zucchini, vegetable oil and lemon juice. Gently fold this mixture into the dry ingredients, being careful not to overmix. Stir in the chopped walnuts (I chose to top mine with the walnuts since Joel doesn't like them and they would be easier to pick off). Pour batter into a greased and floured loaf pan. Top with dried apple slices if desired. Bake for about an hour, or until browned and a toothpick comes out clean.
Adapted from Veggie Zest
Meg's Everyday Indulgence https://www.megseverydayindulgence.com/