If you are on Pinterest, I'm sure you have seen this recipe floating around. The second I saw it, I knew it would have to be featured here for the Christmas Tray series!
What is more perfect than pretzels, chocolate and salted caramel for Christmas? Nothing. That's what.
Down with peppermint. Long live salted caramel.
I know this is the second salted caramel recipe I have shared for Christmas this year but it's a huge favorite in our family (as well as pretzels) so I knew it would be a big hit.
My parents watched Noah recently so I whipped this up for them as a thank you. I sampled it before giving it all to them. I had to be able to tell you all what it tasted like. Oh, the sacrifices I make for you guys.


This is another simple and quick recipe to whip up at Christmastime. It seriously only took about 15 minutes from start to finish (not counting the freezing time).
Throw a big handful in a cute cellophane bag, tie it up with a ribbon and hand out the happiness.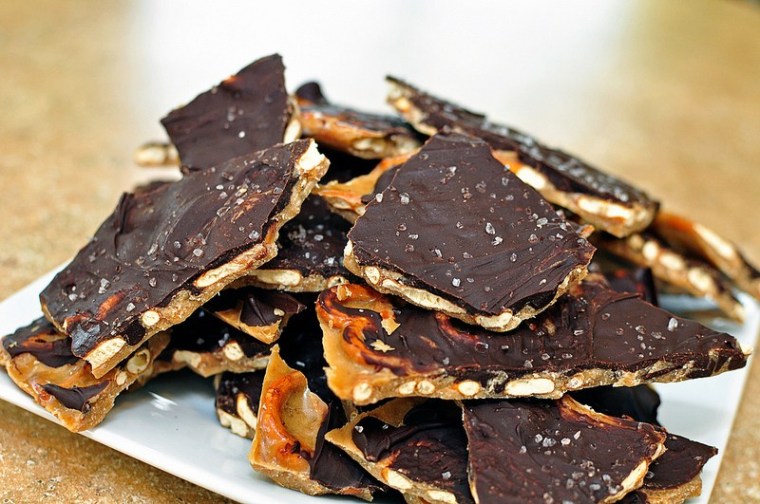 Salted Caramel Pretzel Bark
2015-10-02 01:34:21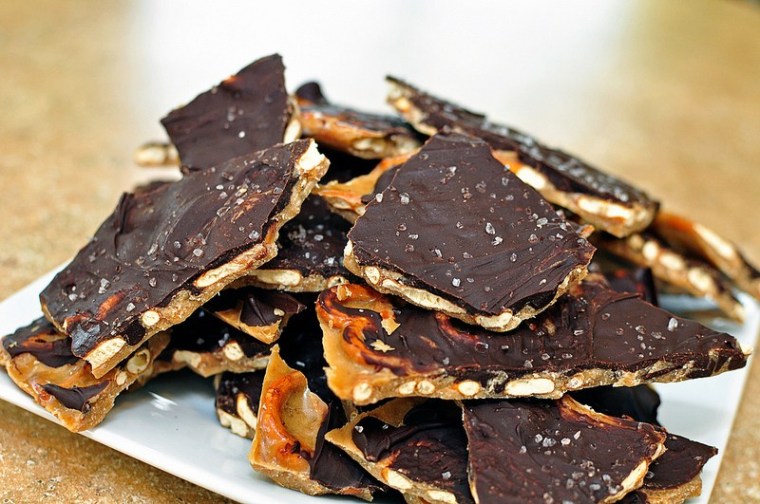 Ingredients
½ bag of mini pretzel twists
2 sticks of butter
1 cup of brown sugar
1 bag of chocolate chips
Sea salt or table salt (I used coarse sea salt)
Instructions
Preheat your oven to 350 degrees. Then line a large jelly roll pan with aluminum foil and lay a single layer of pretzels down.
In a medium saucepan, melt the butter and the brown sugar until the sugar is dissolved. Let it boil gently just until it starts to stick to the bottom and it forms a nice smooth caramel. You'll want to let it bubble a little and get really thick. Remove from heat and pour evenly over the top of the pretzels (don't worry if every single pretzel isn't covered).
Place in the oven at 350 degrees for five minutes. Remove from the oven and sprinkle the chocolate chips over the top. You can let the caramel melt the chips, but I prefer to put it back in the oven for one minute. Spread the chocolate chips around with a spatula until mostly melted. Sprinkle generously with salt.
Let cool on the counter top for a few minutes and then pop in the freezer for at least two to three hours. When it comes out of the freezer, break it up into uneven chunks with your hands and serve.
Adapted from Mama Say What
Meg's Everyday Indulgence https://www.megseverydayindulgence.com/