Although this Broccoli and Cheese Stuffed Chicken looked delicious, I was worried about making it because it seemed involved and complicated with the pounding, filling, wrapping, breading and baking.

Turns out it wasn't so bad once I had all the required ingredients collected and placed in a little assembly line.
I knew I would love this recipe because it combines some of my very favorite foods: chicken, cheese and broccoli. Plus, it has a crispy coating but is still healthy. I couldn't really ask for more in a dinner. Well, maybe I could ask for more cheese but everything could always use more cheese in my world.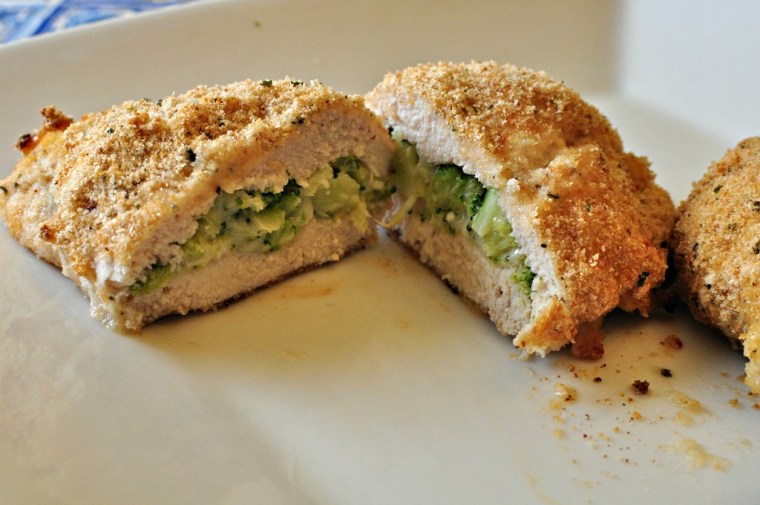 Broccoli and Cheese Stuffed Chicken
2016-03-29 01:39:21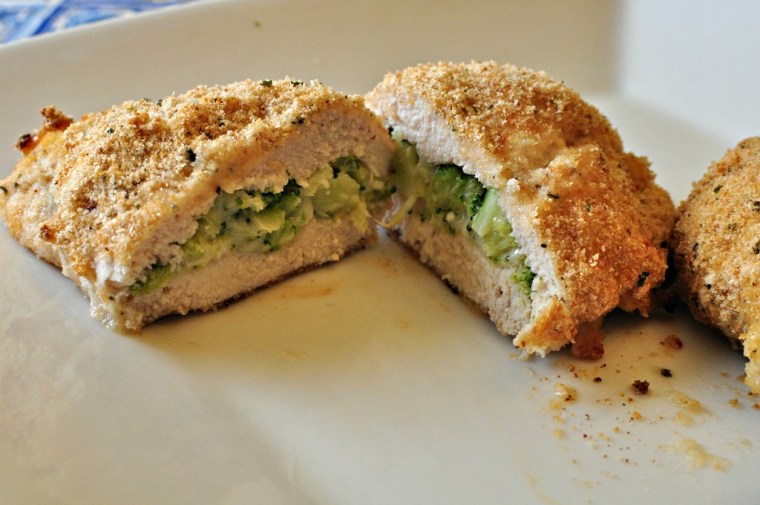 Ingredients
4 chicken breasts
1/3 cup shredded part skim mozzarella
1/2-3/4 cup steamed and finely chopped broccoli (depends on size of chicken)
1 large egg
2 tsp. water
3/4 cup whole wheat seasoned bread crumbs
Nonstick cooking spray
Instructions
Preheat oven to 375 degrees F. In a small bowl, combine egg, water and a little salt. Beat with a fork to make an egg wash. Set aside. Fill a second bowl with breadcrumbs.
Butterfly chicken breasts then pound them to make them thinner and so that they are easier to roll.
On half of the chicken, sprinkle lightly with cheese then top with broccoli. Wrap chicken around to completely cover cheese, using toothpicks to secure. Season with a little salt. Dip chicken into egg wash, then breadcrumbs. Spray cookie sheet with nonstick spray and place chicken on cookie sheet. Lightly spray chicken and bake about 25 minutes, until cooked.
Adapted from Eat Yourself Skinny
Meg's Everyday Indulgence https://www.megseverydayindulgence.com/