When I served these Crispy Baked Asian Wings for dinner recently, Joel asked me if I fried them….that's how crispy they are after being baked in the oven! The recipe for these wings is from Alton Brown's show Good Eats.
I am not really into science so I don't watch it too often but I happened to catch the episode where he made these wings and I knew I had to try them.
The trick is steaming them first, thoroughly drying them and then baking them at a high temperature. They turned out unbelievably crispy so I will be cooking wings this way always.


I usually go for traditional buffalo sauce but Joel isn't a big fan of spicy foods so I try to change it up occasionally so I don't have to hear his whining. We both like Asian inspired sauces so I searched for a copycat of the Asian Zing sauce from Buffalo Wild Wings and it was pretty good.
The sauce is not as spicy so that's something to consider if you like things hot. If I were making these just for me, I would add in a good amount of red pepper flakes to bump up the spice factor.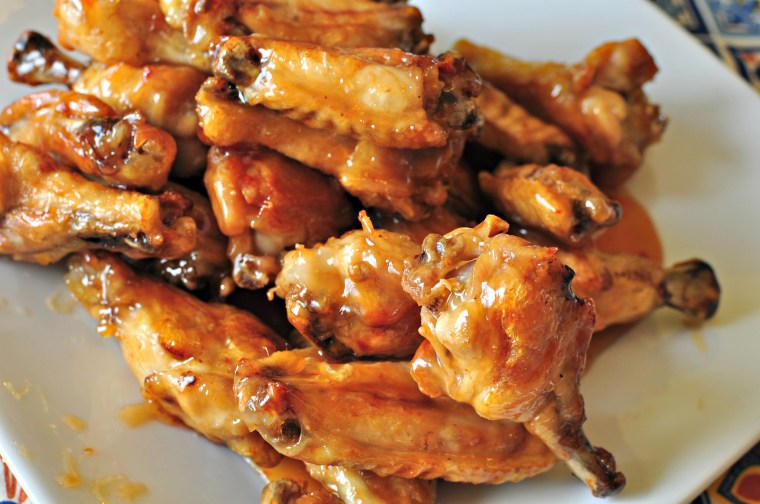 Crispy Baked Asian Wings
2016-01-30 01:55:46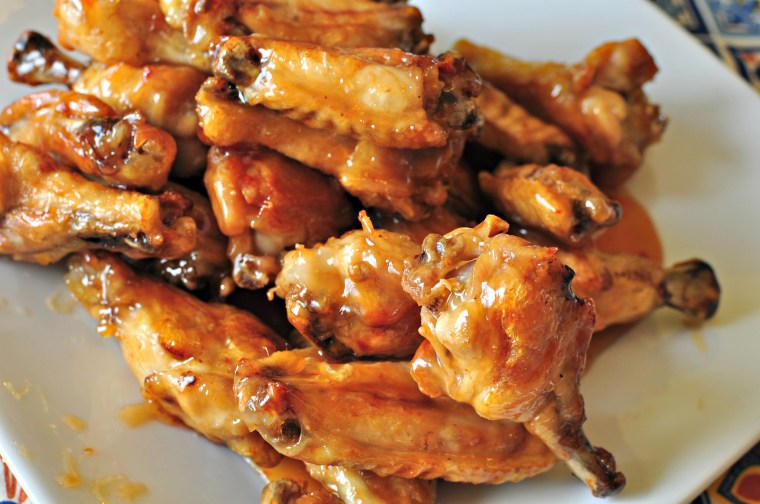 Crispy baked wings tossed in a homemade sweet and spicy Asian sauce. Perfect for game day.
Ingredients
24 whole chicken wings
For the sauce
2 teaspoons cornstarch
4 teaspoons rice wine vinegar
1/2 cup corn syrup
1/3 cup sugar
1/4 cup chili-garlic sauce
1 tablespoon soy sauce
1 teaspoon lemon juice
1/4 teaspoon ground ginger
1/4 teaspoon salt
1/4 teaspoon garlic, minced
Instructions
Place a 6-quart saucepan with a steamer basket and 1-inch of water in the bottom, over high heat, cover and bring to a boil.
Remove the tips of the wings and discard or save for making stock. Using kitchen shears, or a knife, separate the wings at the joint. Place the wings into the steamer basket, cover, reduce the heat to medium and steam for 10 minutes. Remove the wings from the basket and carefully pat dry. Lay the wings out on a cooling rack set in a half sheet pan lined with paper towels and place in the refrigerator for 1 hour.
Preheat the oven to 425 degrees F.
Replace the paper towels with parchment paper or liberally spray the baking sheet with non-stick spray. Roast on the middle rack of the oven for 20 minutes. Turn the wings over and cook another 20 minutes or until meat is cooked through and the skin is golden brown.
While wings are roasting, make sauce recipe below.
For the sauce: Dissolve cornstarch in rice wine vinegar in a small bowl and set aside. In a small sauce pan combine remaining ingredients.Add corn starch and rice wine vinegar mixture and stir well. Heat mixture on low/medium heat, stirring often until sauce reaches a boil and thickens.
Adapted from Alton Brown
Meg's Everyday Indulgence https://www.megseverydayindulgence.com/