And it's Pinterest for the save again. When I saw this wonderful DIY smoothie pack idea I knew I had to give it a try. Smoothies are so stinking expensive to buy but it's just so much more convenient rather than having to prepare all the fruit each time.
Well, now with just a little prep work in advance, you can have smoothies within seconds and you don't have to worry about the fresh items going bad before using them all like you would with a traditional smoothie recipe.


You can create whatever combinations you like for these delicious homemade smoothies. I purchased bananas, pineapple, blueberries, strawberries and raspberries. You could even add a handful of fresh spinach to the bags.
You can use either fresh or frozen. I bought mostly frozen fruit because the fresh did not look great and it's even better than the fresh because you don't have to slice and freeze it before assembling the packs.
If you have fresh fruit simply prep it (wash fruit, chop of green tops on strawberries, slice bananas, you get the drill) then freeze it in a single layer on a baking sheet so that it doesn't stick together in a big clump.


While your fresh fruit is freezing, scoop about 1 tablespoon of yogurt into either a mini muffin tin or ice cube trays. I used a mini muffin tin and made 24 yogurt cubes. Cover and freeze until solid.
Once everything is frozen, grab it all out of the freezer and measure out about a cup and a half of fruit (whatever variety you desire…the sky is the limit) per bag. After the yogurt has sat out for a few minutes, use a spoon to scoop them out and place three in each bag.
In the recipe below, I've provided the approximate amount of ingredients I used to make 8 DIY smoothie packs.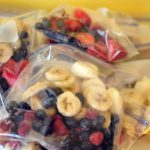 Print
DIY Smoothie Packs
With a little time, you can prep 8 DIY smoothie packs for future use. Just dump and blend for a perfectly delicious and nutritious breakfast or snack.
Ingredients
1

lb.

frozen strawberries

3

bananas, sliced and frozen on a sheet pan

2

cups

frozen blueberries

1

cup

frozen pineapple

8

oz.

frozen raspberries

20

oz.

vanilla yogurt, frozen in mini muffin tins
Instructions
Divide all the ingredients evenly between 8 freezer bags. Place in the freezer.

When you are ready to make them, dump a bag into the blender and blend away. If it's too thick, add some water or milk until it reaches desired thickness.