Joel has always loved chocolate covered cherries at the holidays so instead of buying them this year, I went on the hunt for a fun homemade recipe. I have never made chocolate cherries before and when I came across this recipe I knew they would be a simple and yummy little addition to my holiday baking. And what's better than chocolate covered cherries than drunken chocolate cherries? But let me warn you, they pack a huge punch.
These little cuties start out with a good soak in Southern Comfort or brandy then they are drained, patted dry and dipped in dark chocolate. Although the process takes some time due to the soaking, they are incredibly simple to make. Whip up a huge batch so that you can keep some for yourself and pack up the rest for some friends or neighbors.
Although the booze is strong in these little cherries, the sweetness from the maraschino cherries still shines through. Plus, chocolate + fruit is a magical combination so there's really nothing to lose with this one.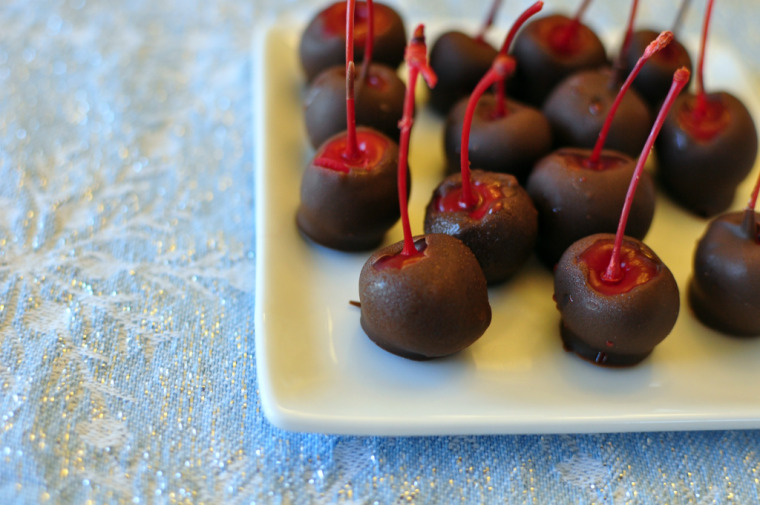 Drunken Chocolate Covered Cherries
2015-10-26 18:48:08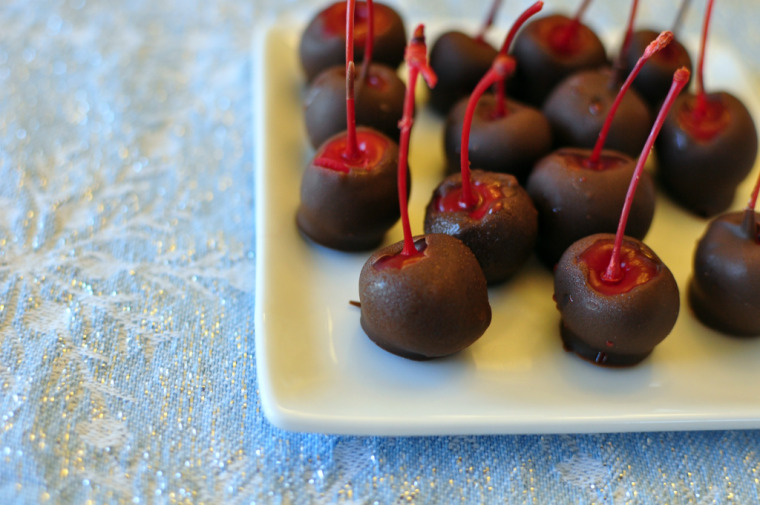 Ingredients
1 (10 oz.) jar maraschino cherries with stems
1/2 c. Southern Comfort (or brandy)
1 1/2 cup semi-sweet chocolate chips (or some dark chocolate candy melts)
1 Tbsp. shortening
Instructions
Drain the juice from the jar of maraschino cherries. Pour Southern Comfort over cherries in the jar, filling the jar. Refrigerate for 2 days, or for up to 1 month.
Drain cherries and pat them dry with some paper towels (you may want to reserve the cherry-infused Southern Comfort to drizzle over vanilla ice cream or to use in mixed drinks!). Melt the chocolate chips (or candy melts) together with the shortening in a bowl by microwaving for 1 to 1 1/2 minutes until melted and smooth, stirring every 30 seconds.
Dip cherries quickly into melted chocolate, coating the entire cherry; let excess chocolate drip back into the bowl. Place cherries, stem sides up, on wax paper. Let stand until chocolate is firm. Store in an airtight container in the refrigerator or freezer.
Adapted from The Kitchen is My Playground
Meg's Everyday Indulgence https://www.megseverydayindulgence.com/