Labor Day weekend was super busy for us. Joel's parents, sister and her kids all came to visit and we had a blast hanging out together! We went to the lake on Saturday, rented a pontoon boat and spent the afternoon cruising the lake.
Unfortunately, the high was only about 65 degrees and it was pretty windy on the water. We were cold. See.
On Sunday we went to church together, took the kids to Space Aliens, played outside and looked through pictures of my in-laws recent trip to Alaska. It was a busy weekend. The in-laws headed home Monday morning leaving our little family to celebrate Labor Day together. We took Noah on his first picnic by the river and he loved it. Anything that involves food or being outdoors is sure to make him happy!

We decided to break out the smoker again this summer before it gets too cold and we of course picked our favorite grilled meat, baby back ribs! They are so simple to smoke and so amazingly fall-off-the-bone delicious! Joel took care of the ribs and I prepared macaroni and cheese and baked beans. I also mixed up a sweet, smoky and spicy barbecue rub for the ribs.
To smoke the ribs, we remove the membrane off the back of the ribs then rub them generously with the rib rub.
Then place them in the smoker which is between 225 and 250 degrees. We then smoke them for 5 to 6 hours (checking the smoker often to ensure it stays in the temperature range).
After they have been smoked, we slather them with a generous amount of our favorite barbecue sauce then throw them on the grill for a few minutes. If you like your ribs dry, skip this step.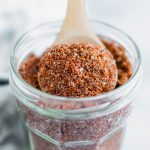 Print
Best BBQ Rub
Keep a big batch of the Best BBQ Rub in your pantry for all your barbecuing this summer. All you need are pantry staples to whip up this sweet and spicy rub.
Ingredients
1/2

cup

dark brown sugar

1/4

cup

smoked paprika

1

Tbsp.

black pepper

1

Tbsp.

kosher salt

1

Tbsp.

chili powder

1

Tbsp.

garlic powder

1

Tbsp.

onion powder

1

tsp.

cayenne pepper
Instructions
Combine all ingredients well. Store in an airtight jar for up to 6 months.