Have you ever had those expensive sugary, cinnamony almonds from the mall or at sporting events? You know the ones I'm talking about, the ones you can smell from a mile away that instantaneously make your mouth start to water. Oh yeah, these are those! They are amazing and super easy to prepare.
I've had this recipe bookmarked for quite some time and was just waiting for the opportunity to make them. I knew I couldn't make them to have around the house because Joel doesn't like almonds (what is wrong with him?) and I can't be trusted alone with them.
We attended a friend's birthday bash recently and even though I was told I didn't need to bring anything I just can't attend a party without something in hand. And I couldn't get these off my mind. They were a big hit and luckily I didn't have to twist anybody's arm to take them home. I lack willpower, majorly.
These would be a great addition to Christmas cookie platters or any cocktail or appetizer party. I think pecans would be great added to the mix or in place of the almonds. Make sure to read the notes before starting these delicious little almonds.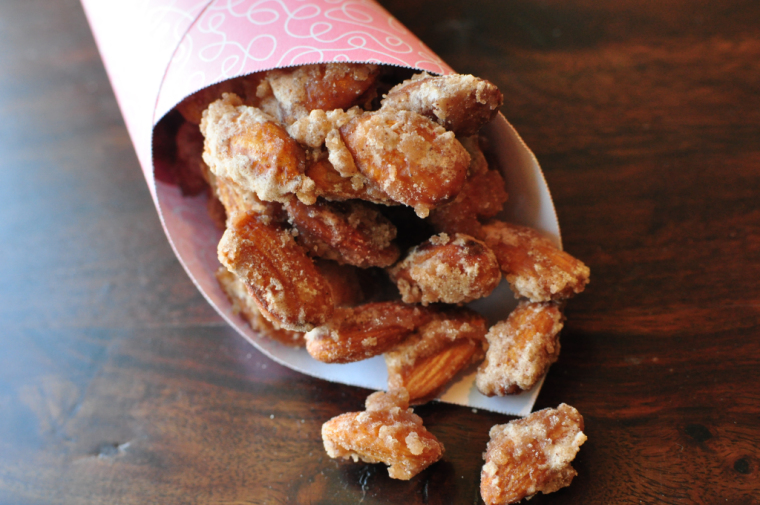 Burnt Sugar Almonds
2016-12-09 16:50:00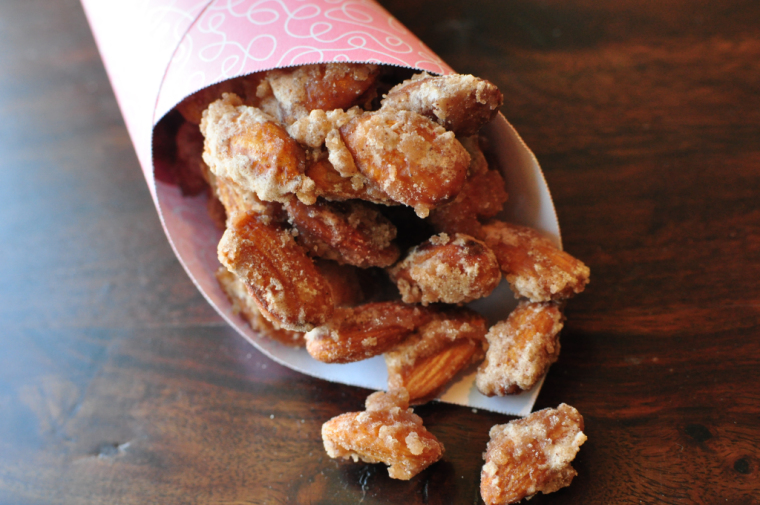 Ingredients
1/3 cups water, Plus 2 Tablespoons
1 1/3 cup sugar, Divided
1 1/4 teaspoon cinnamon
2 cups raw almonds
1 teaspoon vanilla extract
Instructions
Notes before beginning: Make sure that you do not let the first sugar mixture evaporate until it's dry. You don't want it soupy, but a very thick syrup that is sticking to the nuts. This is when you will add the second addition of sugar (1/3 cup). If your mixture does become too dry, don't throw everything away. Instead, add a couple of tablespoons of warm water and stir until you have a bit of shine but some lumps begin to form.
Add water, 1 cup sugar and cinnamon to a heavy bottom saucepan then stir. Bring to a boil over medium heat. Add the almonds, raise the temperature to high heat and stir constantly until the water is boiled away.
The sugar will dry out a little but start to stick to the almonds. Keep stirring so that the almonds don't burn on the bottom of the pan.
Turn the heat under the pan to medium-low to keep the sugar from browning too fast. Keep stirring until the almonds start having an even shiny coat.
Add in the rest of your sugar. Keep stirring and add your vanilla. At this point, there might be quite some crackling and popping. It depends on how fresh your almonds are. Really fresh almonds will make a popping noise and the coat may start to crack. That's the water in the almonds escaping. If the almonds are older, there won't be as much of that.
Keep stirring until the almonds are fairly shiny but still a bit lumpy. You don't want them completely smooth. The best ones are the ones that are shiny in some areas with some delicious lumps of cinnamon sugar on other parts of the almond.
As soon as you see that happening, take them off the heat and transfer the almonds to a sheet of parchment paper. Spread them apart as much as you can, but don't worry about some of them sticking together initially. These are extremely hot so only use a spoon.
While they are cooling, keep on breaking them apart with your spoon until they are all separated. Once they are cooled, hide them in a dry, closed container. Theoretically, they keep for several weeks.
Meg's Everyday Indulgence https://www.megseverydayindulgence.com/