If you're looking for a healthy, flavorful meal stop right here. This Spinach and Feta Stuffed Greek Chicken is quick to make and bursting with good for you Greek ingredients.
It's almost Easter friends. I went to Target yesterday to pick up some last minute Easter candy and a few other things and of course spent over the $50 minimum but left with only a few unplanned purchases. I call that a win. I guess to most people 5 days before is not considered last minute but to my detailed, must be prepared brain it felt like I was cutting it a little close. I mean, if you get there too late then all the Reese's eggs are gone then why even bother with the darned baskets. I just can't take that risk.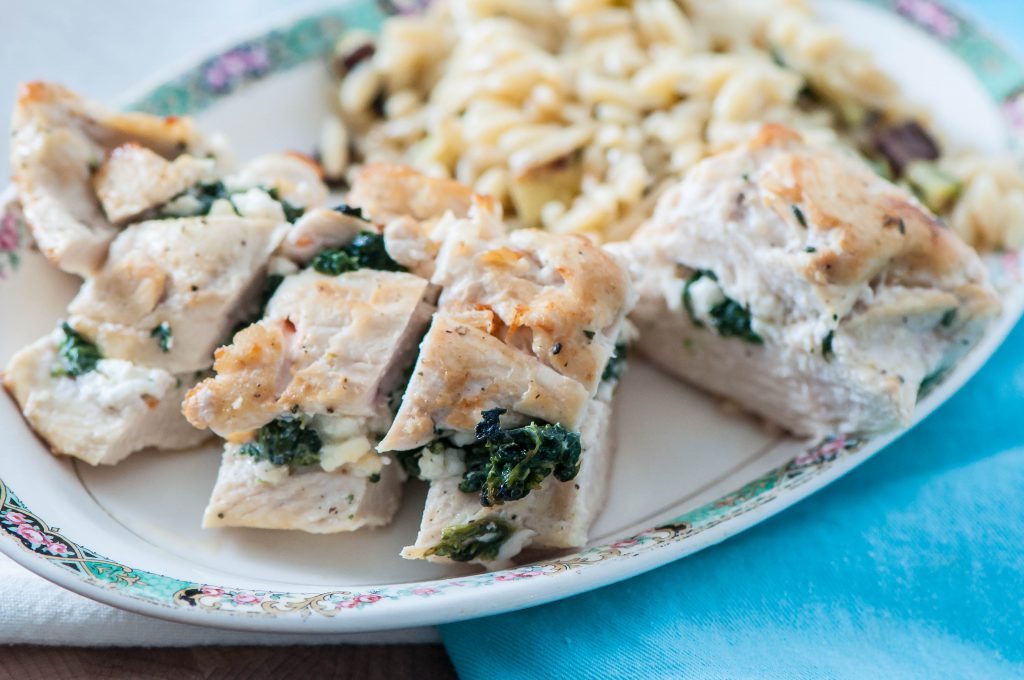 And since I will be eating all the candy this weekend I figured it would be good to share a quick, healthy dinner so you can justify eating more candy. I'm always looking out for you guys.
This Spinach and Feta Stuffed Greek Chicken is another 30-ish minute marvel (not counting marinade time) that should make most of your people happy. I try friends but I make no guarantees when spinach is involved. There aren't gobs of cheese but there is enough that it combines well with the spinach and may help trick any picky people in your life.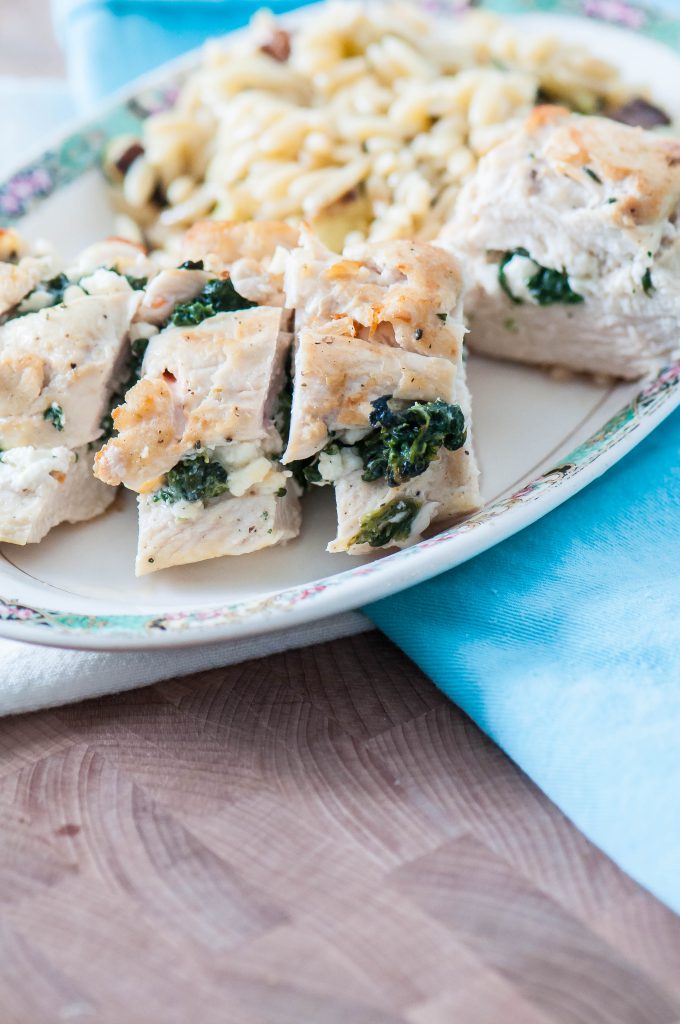 The chicken is marinated for a short 30 minutes (or up to 4 hours if you want, not any longer as the acid in the lemon juice will start to cook the chicken and yield weird, tough results). The marinade is made up of lemon juice, olive oil and Greek seasonings. I even mix all the ingredients in a ziptop bag so I don't have to get any bowls dirty.
After the chicken is marinated, it gets stuffed with a spinach and feta mixture, seared in a hot skillet then transferred to the oven to cook through. Don't let stuffed chicken intimidate you, it really is simple.
This would be delicious and even quicker grilled if the weather permits. It was cold and rainy when I was testing so I went with the oven but keep that in mind if you don't want to heat up your house in the coming months.
Spinach and Feta Stuffed Greek Chicken
Ingredients
4

large

boneless skinless chicken breasts

2

Tbsp.

fresh lemon juice, about 1/2 lemon

1/4

cup

olive oil

1/2

tsp.

Greek seasoning

1/4

tsp.

kosher salt

1/4

tsp.

black pepper
For the filling:
3

oz.

crumbled feta

6

oz.

frozen spinach, thawed and squeezed dry

1/4

tsp.

pepper
Instructions
In a ziptop bag, combine the lemon juice, olive oil, Greek seasoning, salt and pepper. Cut a slit through the middle of each chicken breast, being careful not to cut all the way through. Add to ziptop bag and squish around until thoroughly coated. Place in refrigerator and marinate for 30 minutes.

Preheat oven to 350 degrees F. Meanwhile, combine feta, spinach (squeeze dry in a kitchen towel to get all the excess liquid out) and pepper. Remove chicken from marinade and divide the filling evenly between each chicken breast. Fill slit with filling and secure closed with toothpicks.

Heat a skillet over medium heat and add a drizzle of olive oil. Sear chicken for 3 to 4 minutes per side. Place pan in preheated oven and cook about 20 minutes, or until internal temperature reaches 165 degrees F. Remove toothpicks and serve.